Commercial
We offer our services to fabricate and erect large and small structural steel projects. This is what most metal buildings are. We work on many commercial projects from mid-size dept. stores to small offices.

Residential
We also work on many residential jobs dealing in a variety of steel products. If it is one piece of steel or a truckload, we can handle it. A lot of residents want a large and open floor plan. To accomplish this we install steel beams and columns, even hidden in the walls, if that is what you need.
Steel made to size
We can supply and cut any piece of steel, aluminum, or stainless steel that is out there. We try to hold our tolerances to 1/16", even closer if that is what you need. Unlike most wholesalers and suppliers, we do not charge a high price just to cut the steel to your desired length. When you receive your purchase you can rest assured that it will be right.

Drilling and Punching
Along with cutting, we can place the holes or slots that you need with the closest attention. We have many machines that can punch a lot of holes in the same time it would take to drill one hole. Some jobs do require drilling and we can handle that too. We can make any hole diameter you require.

Rolling and Forming
We can roll 3/8" steel plate to a desired radius or form and bend it to match up with the angle you need.
Our multi-ton press/break can handle plate over ¾ of an inch thick.


Rebar
We have supplied and fabricated a lot of rebar throughout the years. We are set-up to supply, cut,bend, or even roll the rebar to match any job. Rebar helps tremendously to reinforce the concrete.

Project Assistance
Not sure what you need, we can assist you in all your steel needs. Our people are very knowledgeable when it comes to steel and construction applications. Apel Machine can help you figure out what you need, size, cost, and placement. Even if we can't help you, we will guide you to someone that can.

Guardrail
We have completed many jobs, industrial and commercial, where we have installed protective guardrail inside and outside of plants and businesses. Guardrail will help to protect your building or machines from forklifts and trucks. You can also install around an opening to protect people from falling.

Delivery and Paint
We offer fast delivery to our surrounding area. Most of the time we can get your order to you the same day you place it. We can set up a delivery to anywhere in the country. Although we are not professional painters, we apply gray or red oxide primer paint to prevent the steel from rusting. If you need a special color or type of paint we offer that as well.
Tolerances
The machine shop section of our business is definitely our most precise and accurate. Our tolerances are to the thousandth of an inch!

Machine Equipment
We have a full line of equipment and machinery to satisfy any job, whether one item or a full production run. (For lists of machines see Inventory of Machines/ Equipment).

Machine Shop Fabrication
Our machine shop can fabricate or repair just about anything imaginable.

Below are a few examples of our work:
Driveshafts and rollers
Steel Augers and screws
Large and small keyways
A large variety of industrial parts
A large variety of equipment repair
Craftsmanship
We have always kept our promise to look after the smallest detail. We try to keep a good mix of traditional methods with new technology. This allows us to be very flexible in any situation, while keeping with our quality craftsmanship.
Steel Erection
We offer a variety of steel construction jobs, commercial and residential.

Fabrication-Erection / Same Supplier
When you place an order for a fabrication and erection job, it can save you tremendously. We can help keep costs down when we supply both areas on the same job. A lot of steel fabricators have to instill extra steps to assist the erector. With Apel Machine doing both we can eliminate these steps. We would be more than happy to supply both or single jobs. A lot of our customers have told us they feel more comfortable having the same company doing both. In the event of a problem arising, we would already be there to take care of it in a quick fashion.

Misc. Field Work
Apel Machine offers our portable welding service to all of our customers. We have fully stocked welding trucks that come with experienced certified welders. Our trucks are as close to a portable shop as they come. This service can save you time and money when you don't have to bring your material into the shop.


Project Examples
Here are just a few of the jobs we can accomplish for you in the field:

Structural steel erection (commercial & residential)
Jobsite welding
Industrial plant shutdowns
Steel mezzanines
A variety of misc. steel including, stairs, handrails, and many others
Portable Cranes
At Apel Machine, we are very proud and excited about our crane service. We offer the following cranes for rental:

15 Ton Crane
17 Ton Crane
50 Ton Crane
These cranes operate just like a large truck, which makes them very easy to transport through tight areas. This also allows for a quick turnaround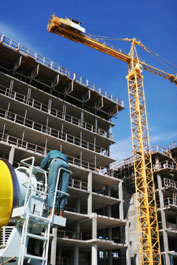 without all the setup cost. Our cranes take just minutes to set up and then we are ready to start lifting. Each crane comes with an experienced certified operator, and rigger if required. Our crane operators can help you move or lift anything as quickly as possible while always keeping safety in mind. Our 50 ton crane can lift over 150' into the air. In most cases, we can give free estimates to help you know which crane you will need. This service also allows you the time to prepare your jobsite to get ready for the crane. All of our cranes and operators carry full insurance and licenses.
Forklifts
We carry different sizes of forklifts so that we can assist you in any situation. As with the cranes, each lift comes with an experienced operator. Our large CAT lift can pick up and move 2300 pounds. Give us a call to schedule a forklift for your job. Renting a lift can save a lot of time and money when you don't have the capacity to have a full time forklift.
Delivery by Crane
A lot of jobs we deliver do not have capabilities to unload a heavy load of steel. In this case, two of our cranes are equipped with a 20' flatbed to carry your material. Then we can use our own crane for unloading. This can save the hassle of having to line up a rental and scheduling. In most cases, the standard crane fee is not applied.
Cutting Equipment

3 Large grade band saws
Multi-ton shear for steel plate x 10' wide
Plasma and torch burning machines
Computer-aided Plasma and torch burning table (Accommodates over 20' sheets)
Hydraulic punches and dies for large diameter holes and slots
Rebar cutting and forming machines
Forming, Bending, and Rolling
We are fully equipped with these types of machinery. Our forming machine is hydraulically powered that can handle large plate.
Our rollers can roll steel plate to most of the radiuses you will need.

Welding
We stock a full line of welding machines of different capacities. Having multiple machines allows us to fabricate your job quickly. Mild steel, aluminum, and stainless steel, we can weld it for you. No matter the job, we take a lot of pride in our welding service. We hold it to the highest quality.

Machine Shop
As mentioned earlier, we have a fully equipped machine shop to accomplish any and everything you need. Below is a list of most of the machines we use:


Steel lathes
Milling machines
Drill presses
Large radial arm drill for heavy, thick plate
Threading machine
Industrial Services
Industrial Services
In Alabama, especially north and central, industry is booming. We tailor to the needs of these businesses with a variety of services. Apel Machine services many different industries with daily and weekly inventory management and orders, plant shutdown, and plant expansion. We can fabricate material storage and handling rack systems to aide increased productivity. As with many other items, we can fabricate one or a full production.

D.I.Y.
A portion of our business is catered to the do it yourself customers as well. We can help guide you in your project design, cut-list, and pricing whilehelping to keep your project cost as low as possible. We know a lot of people want the satisfaction of building something themselves, you don't have to tackle it alone though. Our expert sales staff can take a lot of the burden off your shoulders and get you going in the right direction.

Water & Sewer Line Installation
Another aspect of our company is our commercial water line and sewer system installation. We offer our crews and equipment to install these lines for city and county use. For expanding communities and upsizing or repair of existing lines is where we can help.