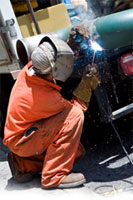 A portion of our business is catered to the do it yourself customers as well. We can help guide you in your project design, cut-list, and pricing while helping to keep your project cost as low as possible. We know a lot of people want the satisfaction of building something themselves, you don't have to tackle it alone though. Our expert sales staff can take a lot of the burden off your shoulders and get you going in the right direction.
Apel Machine & Supply Co strives to tailor to the customer's needs, whatever they may be. We instill in our employees, quality workmanship with a professional and courteous atmosphere. We aim for 100% customer satisfaction, quick turnaround time, high quality, and low prices. We offer many shop and field services. Our services and diversity is what helps to keep us in business.
Below is our extensive product category list. Click on the category name to learn more about those particular products.